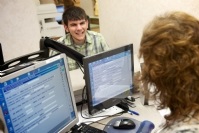 Raleigh General Hospital understands the confusion you may experience regarding billing procedures. Therefore, we want to provide you with this information to help answer some of the questions you may have.
It is important to remember that your hospital bill covers services provided by the hospital: room, nursing care, meals, housekeeping and linen. It may also include services ordered by your physician: X-rays, laboratory tests, medical supplies and oxygen. The bill does not include charges for your personal physician, surgeon, anesthesiologist, pathologist, emergency physician, radiologist, or other physician assistants. You will receive separate bills from these physicians.
Shortly after you are discharged, you will receive a statement from the hospital which estimates the amount your insurance will pay and the amount you will be responsible for. By the time you receive this statement, the billing staff has filed your claim. If you have no insurance and do not qualify for financial assistance, the full amount shown is your responsibility.
You can pay your bill online with a credit card by clicking on the "Pay or View Bill Online" button above.

If you cannot pay the estimated amount in full and have not established payment terms during your stay, please call toll free (800) 291-1365 and we will work with you to establish a satisfactory monthly payment. If we are not contacted, we assume you are going to pay the amount in full.

Remember, if you have any questions or need assistance, the Support Services staff will gladly assist you. The telephone number is toll free (800) 291-1365.
Information about your bill
When you came into the hospital for medical services, we gathered various pieces of financial information to properly bill you for the medical care you received at Raleigh General Hospital. Please understand you may receive more than one bill.

In addition to the hospital charges, you may receive bills from:
Radiology Associates (Hospital/Radiology services - Doctors who interpret x-rays)
Pathology Associates (Doctors who perform laboratory tests and interpret results)
Anesthesiologists (Doctors who provide anesthesia services)
Your family or attending physician
Consulting physicians (if requested by your physician)
Emergency Room physicians (if treated in the Emergency Room)
Please note: all the additional bills you receive are separate from Raleigh General Hospital charges.
Financial services are available
Raleigh General Hospital is not only committed to serving your medical needs, but is also prepared to provide financial guidance upon your request.

Raleigh General Hospital staffs a Medicaid Financial Assistance Specialist in the Admissions Department to assist patients who qualify for medical assistance. Should you need assistance or like further information about this service, please call 256-4288.

The Billing Department will file your assigned claim to your primary insurance carrier promptly after discharge. Should you experience payment delays or need assistance understanding your bill, you can contact Support Services at (800) 291-1365.

Thank you for allowing Raleigh General Hospital to serve your medical needs.
Helpful Telephone Numbers
Our staff wants to help you in any way possible. Please contact us if you have any questions, concerns or need more information. Below are some helpful telephone numbers:
Patient Account Services
Will help you answer billing questions and resolve concerns. Dial (800) 291-1365 for assistance.

You may also dial the following extensions direct by dialing 256-extension:
Registration Manager.... 4289
Admissions.... 4286
Outpatient Surgery.... 4465
Financial Counselor... 254-3066
Medicaid Specialists.... 4288 (staffed to assist patients who may qualify for medical assistance)
The Physician Bill
The bill you receive from the hospital for services rendered during your emergency room visit or during hospitalization does not include fees for services of any physicians. Physician services such as examinations, x-rays, or lab test interpretations are billed independently of the hospital bill. Therefore, you may receive two or three separate physician bills, such as from the Emergency Room physician, pathologist, anesthesiologist and radiologist.

Should you have any questions concerning the physician billing, the respective physicians billing offices may be contacted at the following addresses and telephone numbers:

Emergency Room Physicians
Team Health Assure Systems, Inc.
3429 Regal Drive
Alcoa, TN 37701
(800) 562-2945

Anesthesiology
Sheridan Healthcorp
PO Box 84037
Pembroke Pines, FL 33084
(800) 296-2611

Radiology
Raleigh Radiology Inc.
P.O. Box 791119
Baltimore, MD 21279-1119
(866) 953-5869
E-mail your questions or call (800) 291-1365
Please note: As you are aware, general Internet e-mail is inherently not secure. We are currently in the process of enhancing this e-mail service and recommend that items considered confidential or private in nature not be communicated through e-mail at this time (i.e., Social Security Numbers, Diagnosis Information, Credit Card Numbers, etc.). When conveying confidential or private information, please contact the Business Office directly at the phone number listed on your statement. **All payment and account information obtained in other areas of our web site is encrypted or encoded securing the information so it can only be read by the intended recipients.**