Our Services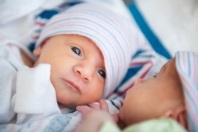 Our Women's, Infant's, and Children's Division provides care from birth to adulthood. Our services include obstetrics, gynecology, newborn, pediatrics and med-surg.
In addition, our facility and the Obstetrics providers believe that elective C-Sections or elective inductions should not routinely occur. It is proven that babies allowed to develop through the entire 40 week gestation period are healthier than those who are delivered before then.
Our OBGYN team includes:
OB physician
Pediatricians
Family Medicine Providers
Registered nurses
Nurse Midwife
Lactation Consultants
During your birth experience, enjoy:
Spacious delivery rooms with sleeper chairs
Natural childbirth alternatives
Level I Nursery
Family centered-care
In case your baby arrives early, we suggest packing for your hospital stay at least three weeks before your due date. While the list of items needed vary from woman to woman, we suggest:
For Mom
Comfortable nightgowns
Toiletries such as shampoo, soap, toothbrush, toothpaste, deodorant, lip balm, hair brush, hair ties, blow dryer etc.
Robe and slippers, socks
Going-home outfit (loose fitting)
Phone and charger
Important phone numbers
Insurance card
Reading material or things to pass time with
For Baby
Receiving Blanket
Going-home outfit
Car seat
Hat
For Support Person
Camera
Insurance information and numbers
Phone numbers and email addresses of family/friends
Extra change of clothes
Toiletry kit
Newborn Nursery
Newborn Nursery is a level I nursery, which cares for well newborns. Level I nurseries are capable of the following:
Our Intermediate Care Nursery consists of four beds that provides care for gestational ages 34 weeks and above that may need help with respiratory support. Staff maintains certifications in Neonatal Resuscitation (NRP) and STABLE.
Newborn Channel Now
Having a baby is exciting, but it can also come with some questions. That's why we provide the Newborn Baby channel, where you can find video resources to get ready for your new addition to the family.
Visit the Newborn Baby channel
3 South
Our Mother/Baby wing consist of 30 beds where we provide care to the ante-partum, postpartum, gynecological, med-surgical and the pediatric populations, in a family-centered environment

Our staff maintains certifications in Neonatal Resuscitation (NRP) and Pediatric Advanced Life Support
We also have a Certified Lactation consultant in-house, Monday through Friday, on a consulting basis that supports our breastfeeding mothers
We recently initiated Quiet Time, from 2PM-4PM daily. During this time, mother and baby will be provided with an enhanced quiet environment, free from routine interruptions. Routine visiting during this time in discouraged, to allow for the mother and baby to bond and learn about each other
If you have further questions about our services please contact the Director at 304-256-4051. You may also call this number for a tour of our Women's and Children's floor or to sign up for our pre-natal classes.